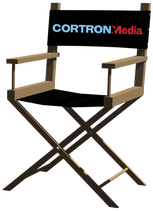 Good marketing videos used to be five to seven minutes long and cost $15,000 to $20,000. They were used as mail out, hand out marketing pieces recorded on VHS, then DVDs or mini discs. Later, videos began to be loaded on laptops for marketing reps to present in one-on- one meetings, or projected for group viewing.
Most of today's marketing takes place on the web or mobile devices. Digital file handling is necessary to store HD video, so DVDs (other than Blu-ray), have given way to thumb drive storage for portability. While the laptop is still a useful sales tool, bigger screen smart phones are also effective.
But social media and web site marketing are often a prospective customer's first exposure to who you are and what you do. The basic rules for success in those formats is to keep it short, do it well, and lead the viewer to a call to action!
Keeping it short means a run time, (in most cases), of no more than two minutes. Think about it. When you are doing an Internet search for a product or service, you want to find what you need and, if necessary, compare vendors for the best price and quality. But you may only have minutes available to do that. So, the shorter the video, the better.
But marketing effectively and quickly, takes skill and talent. It is not the kind of challenge that most amateurs can master in three tries using their iPad. That approach also doesn't look and sound professional. The odds are, you are going to come up short in the viewers comparison with a competitive vendor.
If you do make the smart decision to produce your video with a professional, make sure that your presentation's closing call to action is tailored to how you deliver your product or service. Do you operate a retail location? Provide a reason to buy NOW (sale, product availability), and guide viewers with directions to your location(s). Can shoppers purchase your goods online? Give them an incentive to do that NOW (free shipping, quick delivery options) and provide a direct "buy now" link to the transaction. Do you provide a service that requires fact finding on your part to tailor a selling approach? Then invite viewers to fill out and submit an online survey form. Whatever delivery style you offer, lead the viewer to start engaging with you right now!
How much should a professional video cost? A lot less than it used to. Today's marketplace demands it and a competent production company should be able to employ content strategies that eliminate the need to shoot new video for everything that you need to say. See our
economical entrepreneur's package here
.
Director Doug
dmalcolm@cortronmedia.com