TELEVISION, DIGITAL MEDIA & VIDEO PRODUCTION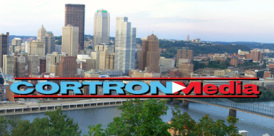 CORTRON Media
is an award-winning, full service video production and digital media company, located in Pittsburgh, PA, dedicated to understanding your needs, satisfying your requirements and providing a finished product of the highest quality within your budget.
---
If a picture is worth a thousand words, imagine how much more effective a video production with 60 pictures per second could be.
Video is more cost-effective than print

Video boosts comprehension and retention

Video expedites buying decisions by 75% over print

Video on TV and the Internet reaches more adults than any other medium

From pre-production through post-production and delivery, CORTRON Media is dedicated to client service. Bottom line - we build our success upon the success of those we serve.
​
CORTRON Media
is involved in all aspects of video from pre-production through post-production and transmission in both studio, as well as, remote environments including, but not limited to, activities such as Electronic and Satellite News Gathering, Video News Releases (VNRs), Satellite Media Tours (SMTs), Broadcast and Network content production, sports coverage, "Event" recording, production of commercials, webcasting and "audio book" production. Single Camera and multi-camera, ("film-style" or switched) HD formats are available based upon client requirements and can be acquired for live broadcast, "as-live" recording or "pre-taping". In addition, CORTRON provides "Live Insertion" services for domestic and international broadcast/cable networks and TV stations. Finally, finished product replication (Private Viewing Platforms, Flash Drive, Blu-Ray, DVD and CD) and packaging are available.
CORTRON Media
is co-located with
Pittsburgh International Telecommunications (PIT)
within the
Pittsburgh Videotech Center
studios, and, is proud to have partnered with them for the last 20 years. PIT is one of the largest, privately held, teleports in the world, and, has provided direct-to-home (DTH) services including ethnic and religious broadcasts throughout North America, Central America, and the Caribbean. As a provider of full time and occasional-use uplink, downlink, and turnaround services, PIT provides iDirect VSAT, disaster recovery, mobile uplink, co-location, syndicated television programming distribution, and, engineering services. Fiber, Managed IP and Satellite transmission capabilities permit us to reach out to the world.