​EXAMPLES OF OUR WORK
(CLICK ON THUMBNAIL TO PLAY VIDEO)
​
---
VIDEO (Educational, Informational, Training, Sales)
​

A dual-purpose marketing/promotional video produced for
Fulfitment
, a personal training and motivational organization. The project was designed to enhance name recognition, and, to promote a week-long "Goal Setters Challenge" event.
An interview with actress Sarah McGraw Krushinski concerning her distinguished theatrical career, and, her decision to create the
Wexford Acting Studio
. This production is designed to inform aspiring actors of all ages regarding the multi-discipline approach of the studio.
A promotional video produced for
5 Generation Bakers
, maker of nationally acclaimed "Jenny Lee Swirl Breads", provides an overview of company history, production facilities, as well as, a look at the process from start to finished product.
---
MUSIC VIDEOS
A sample of various music videos and our capabilities in production for independent artists and record labels.
---
TELEVISION COMMERCIALS
A series of three
Public Service Announcements
produced for VISN4 of the Veterans Administration. These spots effectively informed and encouraged returning U.S. combat veterans suffering emotional disorders to seek the treatment that they require and deserve. Through promotional services provided by CORTRON, these spots were aired over 3,000 times in a six month period at no cost to our client.
​
*ACCOLADE AWARD WINNER*
A 30 second commercial produced for a hotel-based restaurant offering fine dining, an extensive wine list and comfortable environment. This spot was a featured commercial in an original 7-part cooking program entitled "
La Dolce Vita
", also produced by CORTRON Media.
---
ORIGINAL TELEVISION PROGRAMMING
​

A dual use production consisting of a
2 hour DVD presentation
, and, a 1 hour program for PBS distribution featuring
Matt Morgan
, a tenor with the New York Opera Company. This project, sponsored by
Mifflin Hills Music
, provided an interesting blend of operatic vocals and rock guitar. Logistical challenges included live audience in high school auditorium venue, no rehearsal, same-day set-up of lighting special effects, sound and video equipment. Live switched 6 cameras and crane.
​
*MULTIPLE ACCOLADE AWARD WINNER*
A 7-part cooking series that aired on broadcast television featuring Vito DiSalvo, a dynamic, young chef with a zesty Italian style. Attracted interesting and famous guest chefs and was supported by strong sponsorship. Live switched 3 cameras at various venues including custom-built studio,
Jackson's Restaurant
and outdoor barbecue. Remote b-roll acquired and integrated in post-production.
---
WEBCASTING
​

A special pay-per-view webcast series featuring gourmet cooking class presentations at
Bella Sera
. Shot film-style in the presence of a live audience with webcast viewer call-ins. In addition to registration revenues, client showcased his venue for weddings and parties.
---
SATELLITE MEDIA TOURS
​

A highly successful 13 city SMT designed both to announce the release of a
multiple public service announcement series
produced by CORTRON, as well as, to inform returning U.S. veterans concerning the importance of their registration with the Veterans Administration within 5 years of their discharge. Station notification, studio production, satellite reservation and Nielsen tracking provided by CORTRON.
---
TRADE AWARD PRESENTATION
A production of the International Masonry Institute's annual Golden Trowel Awards presentation for the recognition of outstanding achievement in the field of masonry design and construction. Several of the major award winning structures were recorded on-location with representatives from the responsible firms being recorded in-studio, while most of the winners utilized video derived from photographs.

---
NETWORK SERVICES (No Video Link)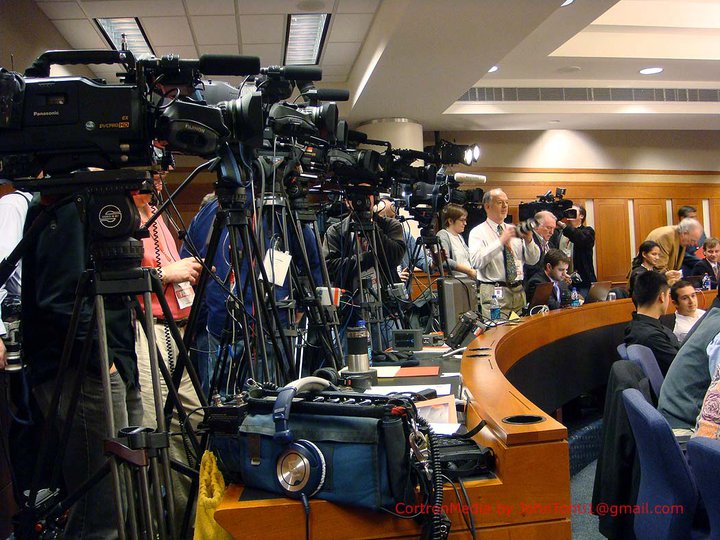 Live program insertion, "pre-tape" production, "b-roll" acquisition, sports coverage, press conference transmission and interview recording are all services provided to domestic and international broadcast/cable networks by CORTRON.

---
SEE MORE SAMPLES OF OUR WORK BY CLICKING ON THE ICONS BELOW