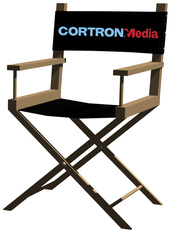 Now that HD quality cameras are included with the latest tablet devices and smart phones, doing your own marketing videos can sound like a smart idea. It is true that the technology upgrades to these devices are amazing. However, you need more than technology to create a video that reflects the professionalism of your products and services - and that first impression is vital!

We've all had the experience of sitting at a traffic light while a contractor pulls up beside us in a work vehicle. If their company truck or van has a decent paint job, is clean, and clearly displays the business name, phone, and a memorable tag line - that's great advertising! But what if you hear or smell the vehicle approaching before making eye contact? If it is rusted, has a muffler dangling, and, the operator's tattooed arm menacingly flicks cigarette ashes toward the child in your passenger seat, are you going to scramble to jot down the web address?

Similarly, if your home-made video starts with you resettling into your seat after leaning forward to press an iPad record button, you're off to a bad start. If your "hello" sounds like you are recording in a tin can, the busy pattern on your outfit jitters in video playback, and sunlight streaming into your "studio" makes it hard for viewers to tell whether you're twenty-nine or ninety, the content of your message won't matter.

But maybe you think you can't afford to hire a professional production company. That may be true. But if you find one that's mastered important cost-saving techniques like offering in-house narration and creative services, and employs of stock photos and video footage whenever possible, you're in for a pleasant surprise.

Look for a company that includes a good number of non-profits in their client mix. Most .orgs are chronically under-funded, but they still have important messages to tell. The right production company knows how to do that in a professional way, without breaking a modest budget.
Director Doug
dmalcolm@cortronmedia.com